Apparound is the SaaS cloud all-in-one solution for managing sales processes, designed for solving sales force's main issues regardless of the industry and enable sales reps to make deals more engaging, effective and profitable.
One of the features we most focused upon was the integration of our software with other digital tools that are part of everyday tasks for many companies.
The CRM, for example, is certainly one of the most commonly used software, as it facilitates activites for the Sales and Marketing departments.
By integrating the CPQ with the CRM it is possible to increase the effectiveness of sales processes and reps.
CPQ and CRM share data and eliminate mistakes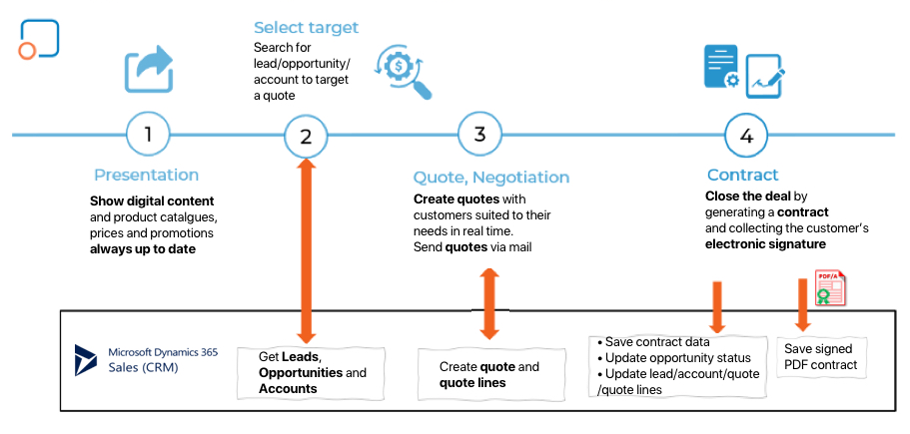 The most attentive companies are focusing on digitizing their sales processes: from the opportunity to collecting the order, including work flows that involve configuring the offer, defining the price and final approval.
The potential of the native connector between Apparound and Salesforce lies in the possibility of exploiting the main features of both software for optimizing the sales process.
Companies that are used to work using Salesforce technology will not encounter any kind of issue during the implementation of a simple, fast and intuitive software such as Apparound.
The link between these two platforms, which happens through a complete and bidirectional sharing of information, will allow to execute and monitor mission-critical activities for the management and personalization of commercial deal along the entire sales path.
The connector allows to manage any information that is finalized to the management of the sales journey:
Account, Opportunity and Lead

: for managing sales opportunities on pre-existing customers

Products and Catalogs: for keeping the commercial offering always up-to-date

Quote and Contract: thanks to the connector, they can be created and managed through Apparound and then updated on Salesforce for any change in status, in order to manage the opportunity in the best possible way.




To be able to offer a CPQ solution that is available on any mobile device or any computer, enriched by sales enablement tools and that can be fully integrated easily is a concrete competitive advantage for resellers, since a combined use of these two platforms
Nowadays, it is common knowledge that the integration between CRM and CPQ optimizes prospects and customers management and supports the sales team in any activity related to negotiation.

Apparound has a professionally flexible in-house structure capable of changing, expanding, and developing new and more advanced integration features between the major CRMs used by companies, such as Salesforce itself, Oracle, Microsoft Dynamics, and many other systems.
Why offering a CPQ that can be integrated with a CRM?
Nowadays, CPQ (Configure, Price, Quote) softwares are essential tools for every company who wants to guide its sales force toward more effective processes and better performance.
Reduce "dead" times
CPQ solutions will never be able to completely replace the interactions between a salesperson and the customer. However, they can dramatically speed up several steps in the sales process, as well as significantly reduce response time to the customer.
Fast and efficient
A CPQ enables sales reps to generate quotes and contracts with the click of a button, allowing them to take advantage of the "hot moment" and avoid losing the customer's attention and interest with late offers.
Optimize CRM licensing costs
Making full and complete use of software such as Salesforce requires considerable economic effort. This is because you will need a number of both CRM licenses and CPQ licenses equal to the number of total users.
However, by making use of Apparound's integration with Salesforce, a Salesforce CRM technical license to which the sellers' Apparound licenses will be linked will be sufficient.
To give a quick example: if you have 50 salespeople, you will need 50 CRM users and 50 CPQ users to use Salesforce. If you want to integrate Salesforce with Apparound, you will only need 1 CRM user to which you will add 50 CPQ users.
Optimize costs and processes
The enormous advantages of integrating these two powerful tools lie in the possibility of a complete, two-way exchange of data. This translates into the ability to leverage all the information in the CRM for offer definition, reduction of communication times, the ability to generate quotes automatically and properly keeping track of all the interactions with the different contacts involved. And much more!
Keep pricing up-to-date
Even with a simple pricing structure with static pre-set prices, sellers need the certainty of using the most up-to-date pricing list.
On the basis of the customer we are dealing with, thanks to the information directly integrated by the CRM and during the offer creation phase, we can know which prices to apply and avoid making mistakes.
Guided selling
One of the most appreciated features of a CPQ system is guided selling. It offers the ability to comprehensively standardize sales methods and mechanisms across the entire sellers network.
Reducing training time and costs by supporting salespeople, step by step, with guided selling paths, allows to identify the best option for the customer based on his or her needs. All of this in real time.
When the quote configurator is well integrated with CRM solutions, it becomes all part of the same workflow: reducing quote errors and enabling the sales rep to extract proposals, contracts and other material easily from their CRM.
To suggest the use of a CPQ is to present a solution that is responsive to market challenges and capable of making a company more competitive.